Rss feed
Tips On Working Remotely During The Coronavirus Outbreak
Thursday, 01 January 1970
We know our community is facing a whole new set of challenges each and every day while we're all doing our fair share to remain indoors and protect each other from the recent Coronavirus outbreak.While working remotely seems simple enough here are some recommendations that can help you better adjust to these changes while you settle into a new work routine.Share to help our community continue to #FlattenTheCurve and be sure to comment with your own tips!
How To Keep Our Community Safe From The Coronavirus
Thursday, 01 January 1970
Here are some preventative methods and information via the World Health Organization that can help keep our community informed and safe while we all face new challenges during the current Coronavirus outbreak.

Help Share these tips with our community so that we can all help #FlattenTheCurve! 

Source: https://www.who.int/emergencies/diseases/novel-coronavirus-2019/advice-for-public

Preventative Coronavirus Guidelines For Our Law Enforcement Family
Thursday, 01 January 1970
Our priority will always be protecting our communities and amidst the Coronavirus outbreak, we're still out there ensuring that everyone is safe while our nation experiences new challenges every day.Here are some useful tips for our fellow officers to remember via the Centers for Disease Control and Prevention that can help keep all of us protected as well.Be sure to share and together we can all help #FlattenTheCurve!Source: https://www.cdc.gov/coronavirus/2019-ncov/community/guidance-law-en...
39th Annual National Peace Officers' Memorial Service in Washington, D.C. Canceled Due to COVID-19
Thursday, 01 January 1970
It is with great regret that, for the first time in the event's history, the 39th Annual National Peace officers' Memorial Service in Washington, D.C. has been canceled due to the Covid-19 pandemic.Teams are consulting with the Concerns of Police Survivors (COPS) and other groups to develop a fitting tribute to honor the families of the fallen for the 2019 calendar year and will develop a plan to move forward after this crisis subsides to honor the sacrifices made by our fallen heroes in the wa...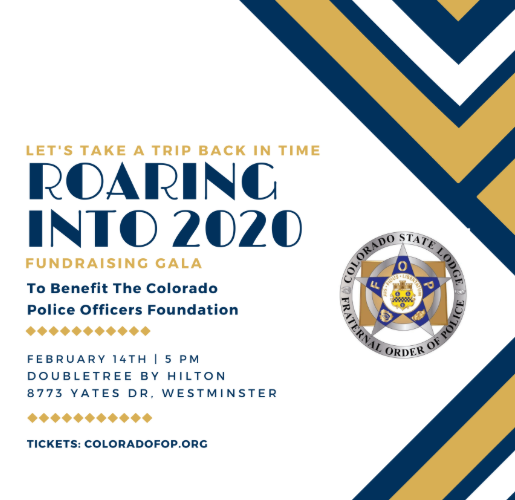 Join Us February 14th, 5pm for "Roaring into 2020" Benefit Gala Hosted by Colorado Police Officers Foundation
Thursday, 01 January 1970
What a better way to spend your Valentine's Day then supporting a great cause! Please join us February 14th, 2020 for our Fundraising Gala, "Roaring into 2020" benefiting the Colorado Police Officers Foundation. Dress to Impress 20's Style Your ticket will include, dinner, dancing, live and silent auctions and more! $60/person Held at the DoubleTree by HiltonDenver-Westminster 8773 Yates Drive, Westminster, Colorado 80031 Visit our event page for special hotel rate - Click Here ...
Our Community Needs Your Help!
Thursday, 01 January 1970
Are you committed to making a difference in our community? Your charitable contribution will help us keep your loved ones safe, give back, and reach our annual goal!Your Donation is the fuel for all of it. From caring for the families of fallen officers to local youth programs, your support helps us build trust between our officers and residents; strengthening our community.Our local law enforcement association continually gives its financial resources to help the growing number of people in ou...
Thank you for Supporting the Badge
Thursday, 01 January 1970
The Longmont Fraternal Order Police Lodge 6 would like to thank YOU for your donation, time and committed support during our "Support The Badge" fundraising campaign. Your generous donations will help us support our critically injured officers and their families.Thank you for your generosity and for standing side-by-side with our law enforcement family.Thank YOU for joining our police family and being part of a community team that connects us all together! Your donation has helped us reach ...
Join Us In Making a Difference in our Community, Donate Today!
Thursday, 01 January 1970
Our annual fundraiser is back! We would like to thank you for your support of the men and women of our Police Association who protect us each and every day. A police officer's job can be stressful and demanding, but we take great pride in helping our fellow citizens whenever we get the chance. It's not just our job, it's our honor to serve. Please join in our mission, and support the men and women of law enforcement, Donate Here! Our officers frequently go into harm's way to protect...
Remembering 9/11
Thursday, 01 January 1970
The tragic events that took place on September 11, 2001 changed America forever. On this day, we honor the 343 lives that were lost as they attempted to save the lives of others. We will never forget the bravery and sacrifice of these heroes.
Crime Prevention
Thursday, 01 January 1970
Simple Crime Prevention: Anyone can be a target of even the simplest of crimes. Here are some tips to keep you safe in your everyday life: -Always be aware of your surroundings and who is around you. Take time to observe what people are wearing and what they look like in case you have to describe it later to someone. -Do not leave any items in your car that may be seen as valuable to someone else. Do not give thieves the opportunity. Put valuables in the trunk or cover them so they are no...
NOCO Police and Fire Families is hosting "Comedy for a Brother in Blue"
Thursday, 01 January 1970
Join NOCO Police and Fire Families for a night of hilarity, featuring comedians David Rodriguez, Elliot Woolsey, Headliner Cop-Comic Vinnie Montez and special music guest Craig Reams, along with a silent auction, to benefit Fort Collin Police Department Sergeant Kurt Clow and his family. Sergeant Clows 23-year-old daughter Payton is fighting for her life. After a sports injury in 2011, Payton was diagnosed with Complex Regional Pain Syndrome. During Payton's battle, she has endured major p...